4E Cognition and the Mind-Expanding Arts
Keywords:
distributed cognition, extended mind, imagination, arts, predictive processing, contemporary art
Abstract
Examining imagination, 4E cognition and the arts together expands our understanding of them all. 4E cognition is a framework that comprises the theories separately known as embodied, enactive, embedded, and extended cognition. This paper draws on research in cognitive science (including 4E and recent predictive processing approaches), ideas in phenomenology, and artworks from The Extended Mind exhibition (2019–20). The artworks offer diverse reflections on 4E cognition, as well as revealing personal, political and ethical benefits and issues predicated on a 4E cognition perspective. This approach further provides a way of defending the epistemic value of the imagination and of unpacking the four key puzzles associated with its relationship with the arts regarding its production of emotional response, imaginative resistance, and moral persuasion, and the paradox of our attraction towards horror and tragedy. The arts are a valuable mode of inquiry into the nature of cognition and neglect of their relevance negatively impacts understandings of the mind.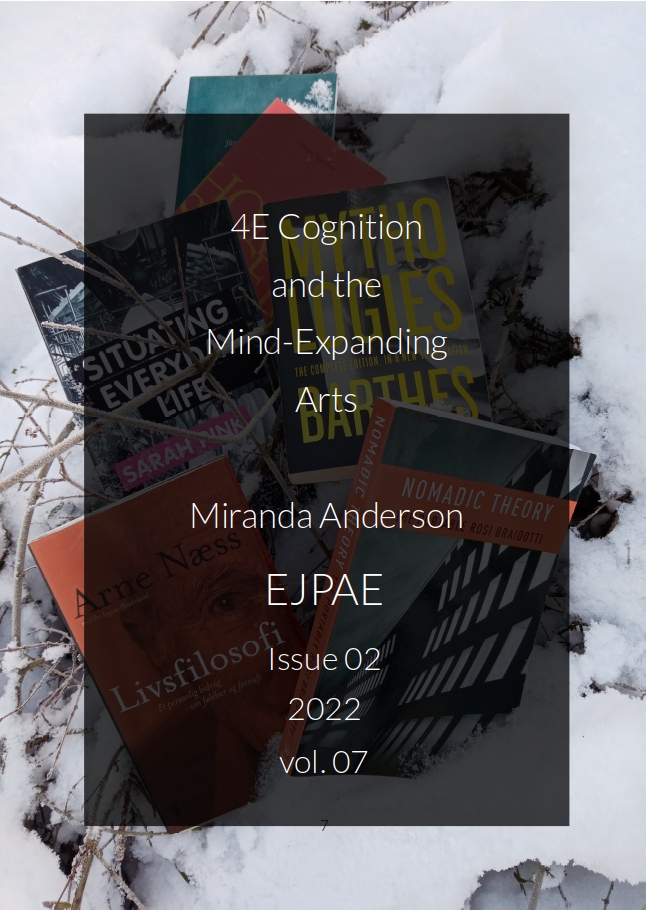 Downloads
License
Copyright (c) 2022 Miranda Anderson
This work is licensed under a Creative Commons Attribution 4.0 International License.