Musicianship and Personal Knowledge Management
Keywords:
personal knowledge management, musicality, prior learning, collaboration, managing information
Abstract
In today's information focused world, most days involve contact with some form of screen and keyboard for work and leisure purposes. Learners must be dexterous and agile to effectively respond to shifting labour market requirements reflecting fast-changing technological needs and expectations. Information is available in a myriad of forms and successful engagement requires effective and efficient skills and understanding. With this background, this paper asserts that a musical skill set broadens the way that learners subsequently engage with and manage their information acquisition and use. This provides a broader base for ongoing knowledge management. Using philosophical and reflective approaches, it draws on life experiences from arts education by way of a duoethnographic approach. Two narratives provide insights of individual experiences, subsequent acquisition and engagement with information and consequent enhanced knowledge. These are analysed using a personal knowledge management model, providing a visualisation approach to the collaboration through knowledge sharing. The dialogic results demonstrate how the background of musical competence enriched subsequent learning capability in structuring and operationalising knowledge acquisition and management.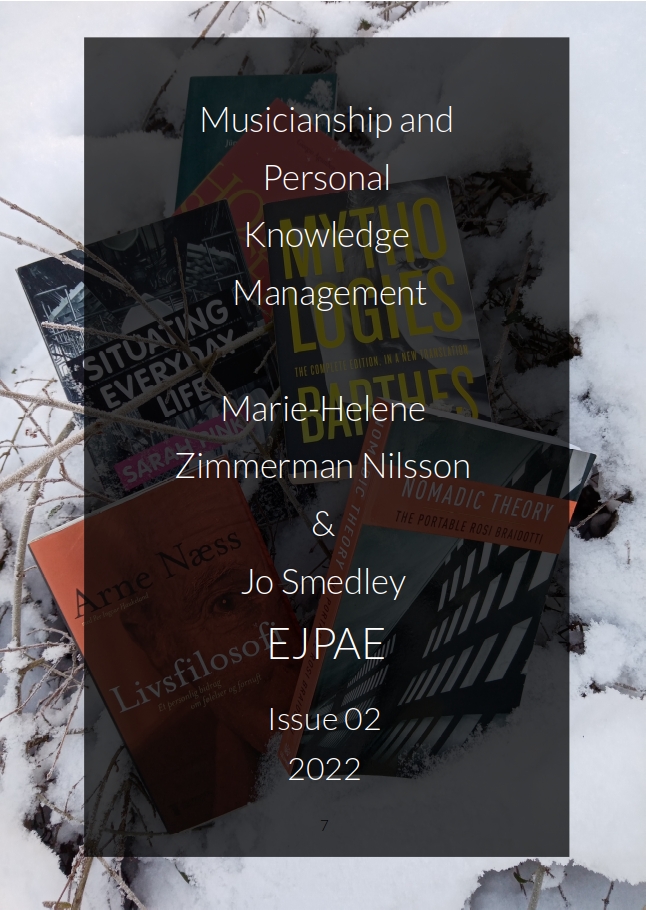 Downloads
License
Copyright (c) 2022 Marie-Helene Zimmerman Nilsson, Jo Smedley
This work is licensed under a Creative Commons Attribution 4.0 International License.