Vol. 3 No. 01 (2018): European Journal of Philsophy in Arts Education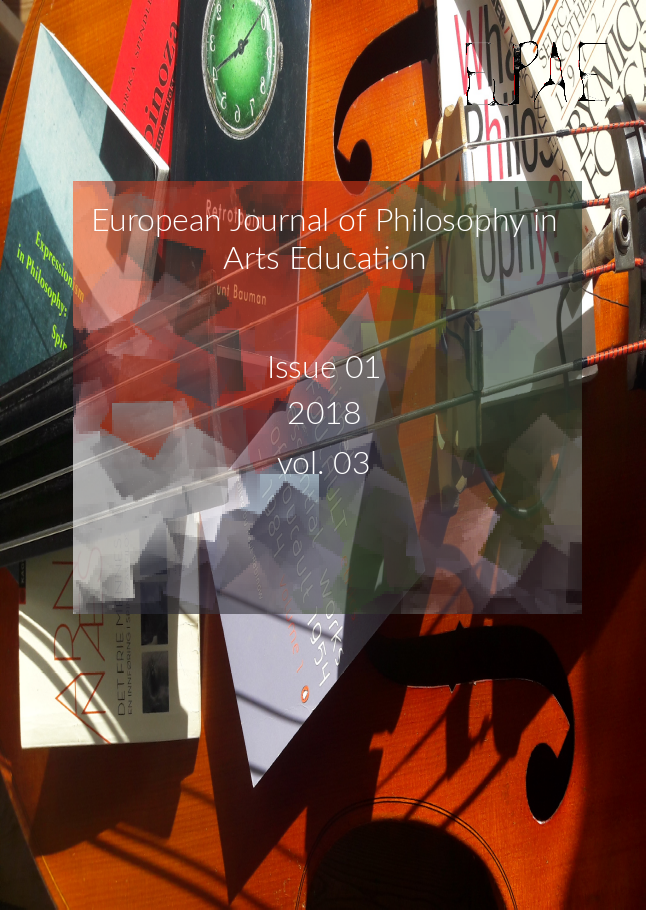 It's been almost a year since the last issue, but finally it is here. And what an issue! Four very interesting articles fill this issue with thought provoking and valuable insights about arts – or in fact music – education. This issue contains articles about improvisation, relational perspectives, emotionally expressive singing, and interpretation.
The article about poetry is the first article ever in EJPAE to answer the call for alternative formats in EJPAE – and is an interesting challenge to how articles usually are written in academia. Carl Holmgren uses different forms of poetry to tweak aspects of the research process from different angles. This article is an interesting take on an arts-based research process, that is a meta text in that is both researching through poetry as well as discussing how poetry can be used for interpretation in the research process. It can also be seen as a meta-meta text in that it investigates interpretation in music through poetry as interpretation in the research process, through poetry. This multilayered text opens up for a whole new range of ways of thinking about the research process and will provoke thoughts on how we construct meaning in academia.
Following this text Shawn Michael Condon presents a more empirical article about how expressivity can be worked with for singers at university level. Through taking into account different modalities and a combination of skill acquisition and the a development of the individual's personal wish for expression, a model for preparing a musical expression is outlined – a model that could inform music teachers in different kinds of teaching leading up to a performance.
The last two articles are both co-written by two authors. The third article, written by Christina Larsson and Johan Öhman, discusses improvisation in education from a pragmatist transactional perspective informed by Dewey. As in the arts-based article by Holmgren, the focus here is meaning making – but here through/in improvisational events in music education. The authors suggest a practical epistemology analysis through analysing an improvisations event though the concepts purpose, encounter, stand fast, gap, relation and re-actualisation , and thereby provides teachers with an intellectual tool for thinking about how and why they do improvisation in music classrooms.
Last, but not least, in the article by Torill Vist and Kari Holdhus, write an important argument about relational aesthetics in music education. They use Bourriaud's theories to provide teachers with important questions about how methods and content in music education invites the students into dialogue. Since art is relational construction of meaning, musical learning that is relevant to the student should invite her into dialogue about different aspects of the musical practice.
In sum these four articles shows the span of EJPAE. All articles develop theories and relate to philosophical ideas in different ways, but the forms and the scopes of the articles are very different; from arts-based poetry, via more traditional philosophical rhetoric to a text that draws heavily on an analysis of empirical material. Since EJPAE started in 2016, we have reached out, and we can now say that we are a respected journal where more and more articles are submitted every month. So enjoy this fantastic issue, but look out for the coming ones: Great insight is in the works.
Ketil Thorgersen
Editor in Chief Stockholm November 21th 2018
Full Issue